Before we go into this review, there's something I'd like you to know (or you could just skip this and read the review, no pressure): It's been four months since I last posted something on this blog, and no, I'm not adopting a once-in-a-four-month blogging schedule.
I'll spare you my (hopefully-not-mid)-life crisis; in short, I'm sort of in a blogging slump, if that's possible. Being absent from the blogging world for too long seems to have this side effect. I'm not quitting blogging, but I want to take a break for a while and find out what I really want to do (I know, deep.) So yeah, just to let you know, I'm not dead yet, and I'll be back eventually. I know I haven't been commenting on other people's blogs for god knows how long, so thanks for coming and reading my blog nonetheless. I love you humans (and non-humans, if you feel excluded.)
This is a review that I wrote a while ago. Enjoy.
Title:
Cruel Beauty
Author: 
Rosamund Hodge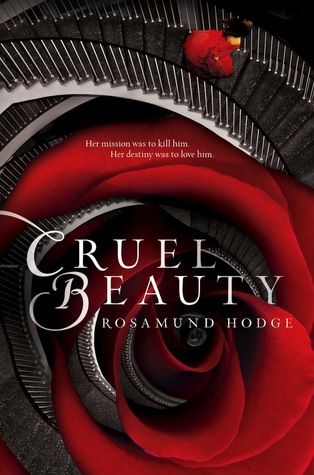 Blurb: 
Since birth, Nyx has been betrothed to the evil ruler of her kingdom-all because of a foolish bargain struck by her father. And since birth, she has been in training to kill him.
With no choice but to fulfill her duty, Nyx resents her family for never trying to save her and hates herself for wanting to escape her fate. Still, on her seventeenth birthday, Nyx abandons everything she's ever known to marry the all-powerful, immortal Ignifex. Her plan? Seduce him, destroy his enchanted castle, and break the nine-hundred-year-old curse he put on her people.
But Ignifex is not at all what Nyx expected. The strangely charming lord beguiles her, and his castle—a shifting maze of magical rooms—enthralls her.
As Nyx searches for a way to free her homeland by uncovering Ignifex's secrets, she finds herself unwillingly drawn to him. Even if she could bring herself to love her sworn enemy, how can she refuse her duty to kill him? With time running out, Nyx must decide what is more important: the future of her kingdom, or the man she was never supposed to love.